A True Sports Car With Four Doors
The New Aston Martin Rapide AMR, on sale now at Aston Martin Chicago
Think about the new Aston Martin Rapide AMR as an example of what was great about every model the company made from the James Bond 007 years onward and tucked it into a four-door sedan that looked like a coupe? That's right. Let it sink in a minute.
Ready? Good.
Because that's what the Aston Martin Rapide AMR is. A four-door sedan that is as much a rocket ship as its two-door siblings. Built of aircraft-grade aluminum, it is one of the sexiest sedans that we've seen, and it's on sale now at Aston Martin Chicago.
What is the Aston Martin Rapide AMR?
The Aston Martin Rapide AMR is the latest version of this mighty near-supercar vehicle from Gaydon, Warwickshire, UK. A four-door, four-passenger sport sedan, it packs a wallop under the hood, making it one of the most intense grand touring machines on the road today. First shown in 2009 as a concept car at the Geneva Auto Salon, it featured 12-cylinder power at its debut. To this day, the Rapide AMR is still powered by a 580 horsepower 6.0-liter V12 engine that delivers 465 lb-ft of torque. The naturally-aspirated 12-cylinder engine is matched up to a ZF 8-speed automatic transmission with a limited-slip differential that can propel this rocket from 0-60 mph in 4.2 seconds and a top speed of 205 mph.
The Rapide AMR suspension is a tried and true double-wishbone setup, which is classically-suited for the job at hand. Braking duties are handled by standard carbon-ceramic brakes, which help to minimize brake fade from high temperatures. Aerodynamic upgrades have occurred throughout and the AM Rapide now rides 10mm lower due to a chassis reconfiguration that improves both the ride and the handling.
How does the Aston Martin Rapide AMR look?
Think of the Aston Martin Rapide AMR as a stretched DB9. Extended to accommodate the addition of two full-size rear seats, the Rapide has been finished to look like the vehicle still has coupe-like dimensions.
The trademarked catfish-like grille is designed to ingest as much cool air as possible to delete the heat that occurs from the V12 under the carbon-fiber hood. That's why there are a pair of engine vents to release the hot air that would be otherwise trapped inside. There are circular daylight running lights that have made their way from its Vanquish Zagato sibling. For added weight savings, the front splitter, door sills, rear diffuser and spoiler are all manufactured using carbon-fiber material, which looks as good as it is light in weight.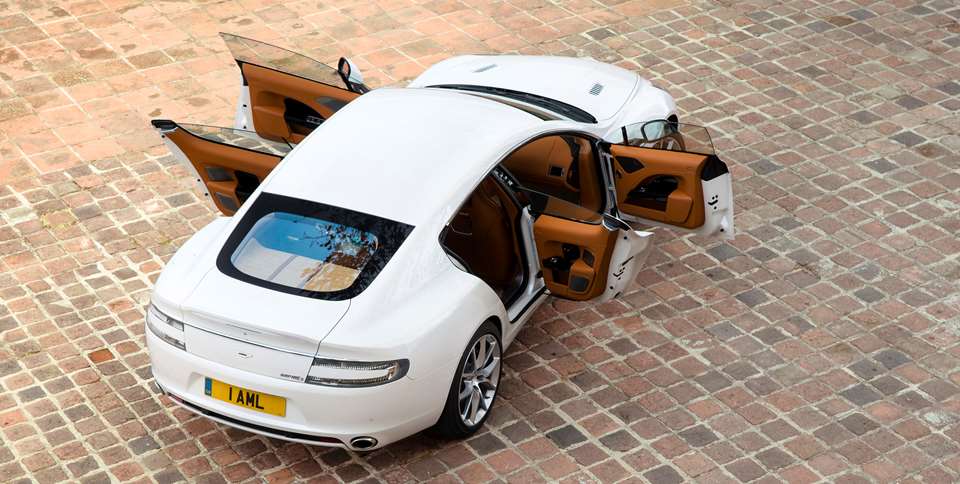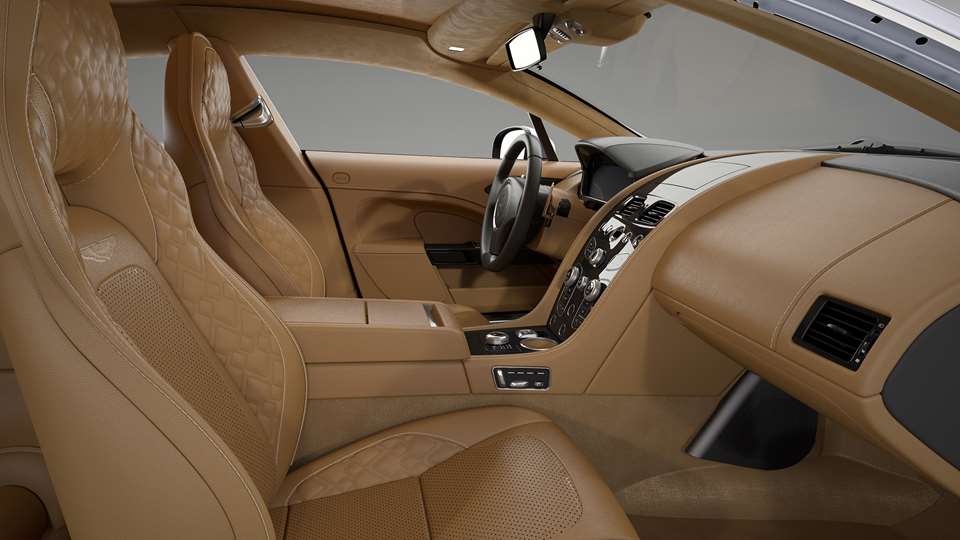 What about inside this Aston Rapide?
Consider every ride you take in the Aston Martin Rapide AMR an event. There's no getting around it: This is a car for those who are comfortable being looked at. Inside there is enough Alcantara to supply an Ultrasuede shoe factory for a year. We say that in jest, of course, but there is lots of it.
In the Rapide AMR case, expect more Alcantara from the headliner to the one-piece bucket seats with subtle AMR stitching (Aston Martin Racing) throughout. Placing the car in gear is a case of pushing one of the gear-selector buttons. Above is the Bang & Olufsen 12-speaker audio system with tweeters that rise when the unit is activated. Apple CarPlay and Android Auto round out the interior accouterments. 
Get the Aston Martin Rapide AMR today!
Limited to just 210 examples of this legendary vehicle, we can help you make history in your Aston Martin Rapide AMR right away. Please contact our Aston Martin specialists at Aston Martin Chicago or Aston Martins of Downers Grove today.
Inquire About The Aston Martin Rapide S