Why Choose Aston Martin Service & Maintenance at Napleton's Aston Martin
Near Downers Grove & Chicago?
Welcome to the Aston Martin-authorized Service Center at Napleton's Aston Martin of Downers Grove.
Nobody knows more about your Aston Martin than the factory-trained technicians in our service facilities. Here, you will find everything you need to know about the type of services we offer to keep your Aston Martin in like-new condition. Our team of Aston Martin-certified technicians are experts trained to service all models in the Aston Martin lineup. You'll feel confident your vehicle is in the right hands.
Aston Martin spaces the Service Intervals for its vehicles in 10,000 mile increments, which occur approximately once a year. The most extensive of these services occur at the 20,000, 40,000 and 80,000 mileage marks. While no job is too big or small for us, here is a glimpse at the menu of services we most commonly perform at Aston Martin of Downers Grove:
Complete Multipoint Inspection
Engine Oil and Filter Change
Airbox Filter Change
Manual Transaxle Fluid / Filter Change
Automatic Differential Fluid / Filter Change
Engine Coolant Change
Brake / Clutch Fluid Change
Ancillary Drive Belt Replacement
Pollen Filter Replacement
Clean Throttle Butterflies
Spark Plug Replacements
Service Hours
Monday

8:00am-5:00pm

Tuesday

8:00am-5:00pm

Wednesday

8:00am-5:00pm

Thursday

8:00am-5:00pm

Friday

8:00am-5:00pm

Saturday

8:00am-5:00pm

Sunday

Closed
We are capable of performing many other types of services and maintenance processes on your Aston Martin vehicle. If you did not see a specific item on our service menu, please keep in mind this is a general overview. We are fully-versed on any service-related needs which apply directly to your particular Aston Martin model. Nonetheless, we welcome your call at (844) 899-7085 or encourage you to fill out our contact form below. One of our Aston-Martin Service Professionals will be happy to assist you with all your Aston Martin maintenance needs.
Aston Martin Oil Change Near Downers Grove, IL
One of the most common types of service you can perform for your Aston Martin is an oil change. We recommend service every 10,000 miles or 12 months to keep your engine in excellent working condition. We recommend Aston Martin-authorized Synthetic Motor Oil.
Why is it important to remain consistent with oil changes?
Motor oil is the lifeblood running through the engine of your Aston Martin vehicle. Designed to reduce friction inside, it also helps to keep the pistons clean from debris. New synthetic motor oil also helps to cool the engine, reducing the chance of internal damage from overheating.
At Aston Martin of Downers Grove, we are proactive in the care of your Aston Martin. Our service experts are available to schedule your next service interval. Schedule your upcoming oil change by clicking on the
"Schedule Service"
button above or by calling us at (844) 899-7085 to speak with a helpful member of our service team.
Aston Martin Tire Service Near Downers Grove, IL
The right tires are critical to keeping your Aston Martin running efficiently. A seemingly minor thought, they are crucial to keeping your Aston operating properly without interruption. But with specialized tires for your dedicated vehicle, it may be challenging to find the proper fitment. Our service department offers the exact tires recommended by the Aston Martin factory in Gaydon, UK. 
Our team of dedicated service professionals will walk you through your options to show you which set of tires is an ideal match for your vehicle. Whether you have a
DBS Superlegerra
,
Vantage
,
DB11
, or
new DBX SUV
, our service department carries tires that are specially engineered to handle your vehicle's weight and dimensions.
Aston Martin Tire Rotation
Getting extended life out of the high-performance tires on your Aston Martin also requires that they are professionally mounted and balanced. The service experts at Napleton Aston Martin of Downers Grove suggest a tire rotation and wheel balance every time you bring in your vehicle for an oil change, which is scheduled every 10,000 miles.
Such a practice will keep the tires on your Aston Martin luxury sports car, sedan or SUV in healthy condition with even wear at all four corners for a prolonged period.
Aston Martin Tire Alignment
Your Aston Martin may need an alignment if you find it drifting left or right while cruising on a straight road or under braking. The cause could be from improper inflation or from hitting a pothole or other roadway imperfection. If you notice your Aston Martin pulling to the left or right, especially during acceleration or braking, that's a clear sign. Please contact Napleton's Aston Martin of Downers Grove to schedule a tire alignment repair today.

Why Service at Aston Martin of Downers Grove?
As a part of the
Ed Napleton Automotive Group
, Aston Martin of Downers Grove is a family-owned business that prides itself on being a trusted part of the greater DuPage County community.
Our mission is to make sure that every service appointment you make with us is a positive experience through exceptional customer service, honest communication, and transparent pricing.
We use genuine Aston Martin parts when performing service on your Aston Martin luxury vehicle. This way, it stays true to its original form as designed and constructed by the master craftsmen in the United Kingdom. This is a guarantee you won't receive at other service departments.
Scheduling a Service Appointment at Aston Martin of Downers Grove
Scheduling a service appointment at Napleton Aston Martin of Downers Grove is as easy as filling out our online appointment form or by giving us a call at (844) 899-7085. After completing the form, one of our service professionals will be in touch to secure your desired time slot. Whether this is your first time in or you are a regular customer, the entire team at Napleton's Aston Martin of Downers Grove is looking forward to working with you to help keep your Aston Martin in excellent working condition for years to come.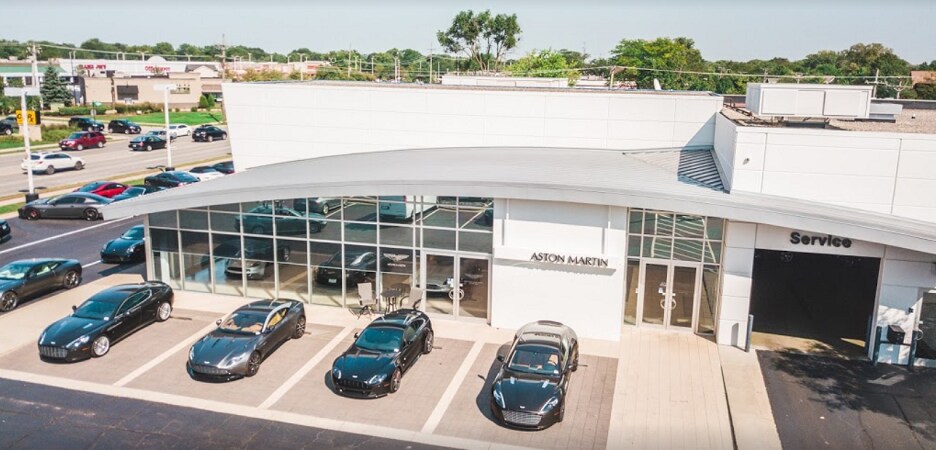 Contact Our Service Team With Any Questions Or Concerns You May Have
* Indicates a required field